The creator of
Dead Factory
, MontyBrad, has just joined the team. If you check out his thread on that link, be sure to go further through the comments to see more screen-shots. The WIP mod is going to be integrated into Beyond Boulder Dome, as another world-space. I've had a play-through of what he's done so far, and it's high quality work!
So, together with a new smaller world-space that I'm currently working on (an air-craft graveyard with a ruined Mobile Base Crawler to explore), that makes FIVE world-spaces in Beyond Boulder Dome!!
Some Pics:
Mobile Base Crawler (from Broken Steel, Fallout 3 DLC):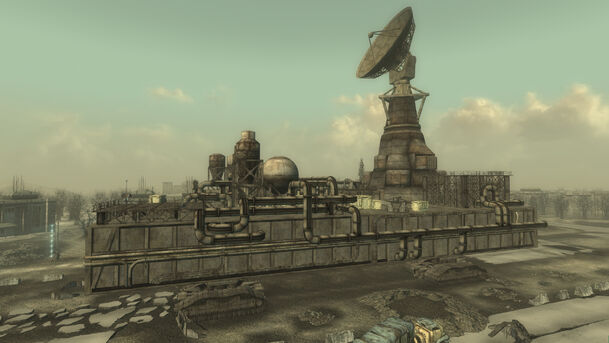 Also, another new special creature has been made. Two more voice actors have received their lines. Another one has completed his lines. I'm currently working on a new BOS Armor. We've received the re-textured helmet for the Enviromental Armor, and it's awesome. I made the mesh, and Cabal120 made the textures. Ionis is about to start work on the underground caves / Ghoul town / residence of the former occupants of Boulder, according to the well-thought-out designs of KazFoxsen (who is working on writing the lines for a new ghoul companion called Deadpan, who players can take home with them to the Mojave.)
We've also had a few more icons done recently by EmeraldReign, and they are looking awesome!
Rob